choosing your roof material
Congratulations! If you have decided to replace your roof, you now have the chance to alter the aesthetic of your home! Not only do you get to choose the roof material (asphalt vs. metal), but you get to choose the style. The material used on your roof can have a big impact on your home's curb appeal and overall look that you are going for. We are here to guide you to choosing the elements to make up your perfect roof.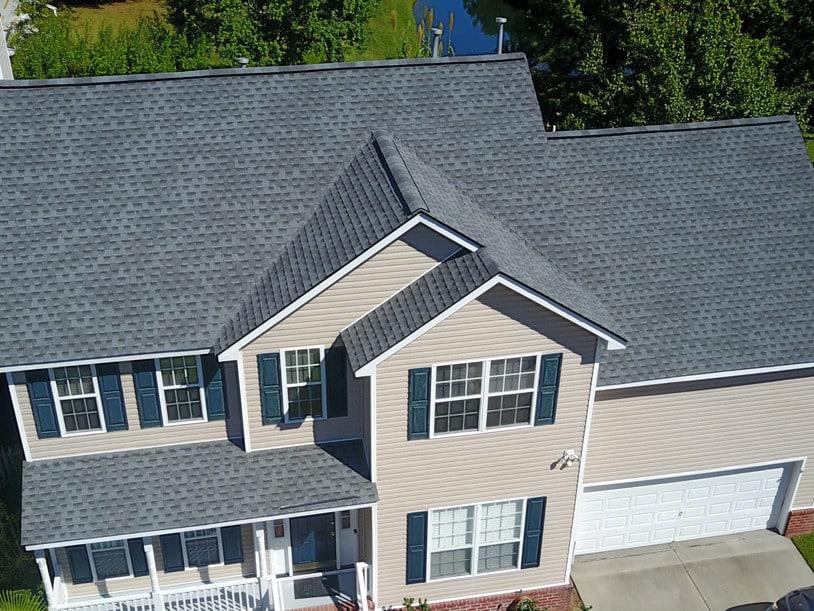 In Charleston, the most common materials used are either shingles or metal.
The first step to determine what material you would like to use is to look around at the other homes in your neighborhood. Remember to consider:
Are there HOA restrictions in my neighborhood?

Will this style compliment my home?

How long will this roof last?

Will it hold up against natural disasters?

If shingles are your material of choice, they can come in many styles. In the picture above, you see straight across, staggered, rounded, and designer shingles (in that order). The style that you choose typically will compliment your home- for example, a cottage style house would be well suited to have the staggered, rounded shingles.
Once you've chosen the style, there are a variety of colors your shingles can come in. Darker colors are more common, but there are lighter colors available that provide many benefits to the home. Click here to find out more about if a light colored roof is right for you.
If metal is your material of choice, you can choose metal that goes straight down, or there are options such as metal tile, metal slate, and metal shingles. The straight down- or seam, metal- is the most popular in the Charleston area due to the modern style that matches any exterior.
If you still cannot decide which roof style is best suited for your home, check out this handy virtual remodeler.
Don't hesitate to reach out if you need advice choosing your roofing style. Willow Ash Roofing has experienced roofers that are more than happy to guide you through this process. Contact us today if you have any questions or would like to claim your free estimate for your new roof!