You may have seen more metal roofs going on homes around your neighborhood lately, as they are a growing trend in the South. Metal roofs not only look cool and modern, but they offer many benefits over traditional roofing materials.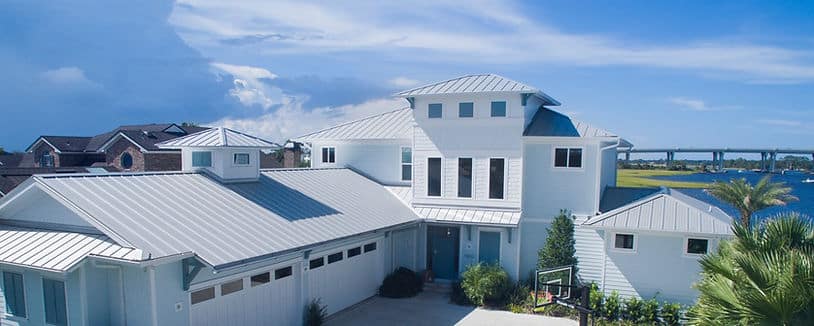 Metal roofs are a great barrier to all types of natural disasters, such as wind, fire, hail, and hurricanes. Metal roofs do not aid fire growth, unlike other roofing materials. Metal roofs also are highly resistant to winds, even those of hurricanes. They also have little to no water absorption, which greatly reduces the potential for roof damage. And, unlike many people may think, a metal roof cannot be penetrated by hail. Additionally, aluminum roofs in particular offer a great barrier to the presence of sea salt, which hangs in the air in our area.
Metal roofs long outlive their shingle roof counterparts. Metal roofs, such as aluminum or steel, can last anywhere from 50 years to 100 years if it is comprised of copper or zinc. This is more than 3 times that of the average shingle roof, which typically lasts between 15-20 years.
The sleek, modern look of metal roofs is a growing trend that is here to stay. Because they can be produced in a variety of colors and finishes, they can add the perfect pop to any home.
In the South, we are no stranger to the heat of the summer (and most other months) but that doesn't mean your home needs to be. Luckily, metal roofs can prevent 75 to 80 percent of the sun's energy from being absorbed into the roof, and can reduce roof surface temperatures by 60 to 70 degrees.
Roofs made of metal materials offer a much lower added weight than asphalt shingles. Having a low-weight roof is important because if there are any natural disasters it will still protect your home without causing damage.